Zoe Sanderson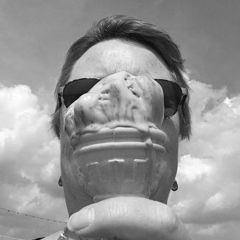 Zoe Sanderson
Happily retired, but doing some ad hoc merchandising. Next time you are in a Supermarket and see one of those cardboard promo stands you'll know it was built by someone like me. It takes paper craft and card construction skills to set them up!
Art & Craft has been part of my life for as long I can remember, I often tell the story of the Christmas Card making set my Mother got for me when I was about 7 years old pots of glue and glitter to go on pre printed cards it didn't get better than that back then.
Moving through the years and knitting became my creativity of choice, until I got a cat have you tried knitting with yarn a cat has just sucked? Don't bother it is just not worth it. A few cats later I got into jewellery making and wire work, hum "Whats that? It moved, I want to catch it and play with it!" That put paid to that. As many crafters will tell you Cats and Craft do go together but not always the way you want them to.
In the background to a lot of this was rubber stamping and mixed media and it is to those that I return time and again. I've been a fan of Tando for many years now and am delighted to be back on board with Di and the team.
Social Media Blog - http://zoechaos.blogspot.com (put Tando in the labels and see what comes up!)
FaceBook - @ZoeSanderson
Instagram - Sanderson.Zoe
Twitter - @ZoeZoechaos